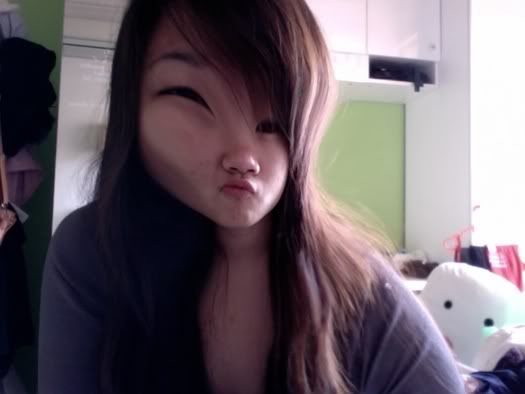 What up.
Hello! I'm here once again, to talk about my very awesome, uneventful life. I think, the bottom of my foot could possibly be more interesting than myself right now. Yay...Soph......
So, I haven't been writing. That depresses me. And I haven't been exactly boosting my own motivation. That depresses me more. But then, I have been reading! and that makes me happy again.
..But then I realized I'm not even halfway through my reading list. Then I'm back to being depressed.
Don't get me wrong, it's not like I haven't been trying. I mean, I open a new document, think, type a few words and look out of my window contemplatively, practising that thoughtful look they usually have in dramas while the guy with a slightly gayish voice sings in the background, hoping that the slight breeze might carry in a gust of inspiration.
Unfortunately, I spend even more time highlighting and clicking 'delete' on what I wrote till it was almost like my fingers were having its on aerobics class. And I did not achieve the thoughtful look they usually have in dramas while the guy with a slightly gayish voice sings in the background.
Woe is me.
Well, at least the result is that I tried. And I now have healthier fingers.
But anyway! Recently, I:
have started watching My Girlfriend is a Gumiho. Probably one of the BEST kdramas ever, as opposed to the many draggy and over-emotional ones that have a ton of hesitating "Should I? Should I not? Am I in love? Why don't you love me? Why does Spongebob only have two teeth?" moments. Plus, I have been introduced to a new love - No Min Woo! I apologize to Lee Joon for now part of my love goes to him. He plays the piano, guitar and the drums. and he has GUGU EYES. :O I hyperventilate.
am beginning to greedily yearn for new things. Like the Samsung Wave. (I blame Daphne) And the MacBook Pro. And the Amazon Kindle. And another external harddisk. Too many things, too little money. No. Wait. I have the money. Too many things, too little will to actually spend on them.
have been happy :) Which is saying quite a lot, coming from me. I've actually been getting up, having my quiet time, and not feeling like I totally wasted yesterday. I guess my results for last sem contributed to that. Also, I've been trying to spend more time with my parents. Mom at a laptop, me at a laptop, dad watching TV. But we're in the same room. It's awesome. And a little something else. :)
FOUND MIN WOO'S TWITTER. HAHAHA EVERYTHING'S IN KOREAN BUT I DON'T CARE
have decided to lay off fast food as much as I can. Maybe I'll only allow myself to indulge like two or three times a month, or less. Seriously, the obesity caused by it is starting to freak me out. It's like ordering a fat guy in a box.
Oh! Also, my Korean has been improving. :D
I am now less-than-a-quarter-fluent in the language that I shall propose to Min Woo in.
I'm sorry, Lee Joon.